ABOUT THE SOUL SISTA!!!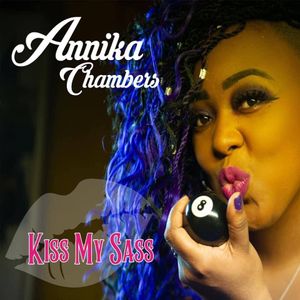 ANNIKA CHAMBERS, like so many powerful vocal artists, can trace her love of music back to early childhood. "I grew up singing in the church," she says. Not that she had to tell us. Citing the gospel influences of Yolanda Adams, Shirley Caesar, Dottie Peoples and Whitney Houston, you can't help but feel the Spirit moving through the entire room when Annika throws herself into the heart of a song.
But it was during her two tours of duty in the US Army that Chambers realized the gift she had. "One of my colonels heard me singing, and he said, 'Why don't you sing the Anthem for one of our ceremonies?'" She was an immediate hit and became their first choice for all their music events, joining the gospel choir and even winning the talent show on her base. From there, Chambers became part of a touring band making the rounds through Kosovo and Iraq, providing a welcome lift for the troops' morale. She also planned special events, concerts, dances and karaoke nights, always doing her part to infuse the good time music into their lives.
Returning to Houston in 2011 brought the creation of Annika Chambers and The House Rules Band. Audiences loved their combination of blues and soul and started paying attention to that powerhouse voice behind the microphone. Among her admirers was bassist Larry Fulcher (2012 inductee to the Blues Hall of Fame) and producer/musician Richard Cagle of Montrose Records. By the end of 2014, Chambers' debut album, "Making My Mark", was climbing blues charts across the US and Europe.  Her meteoric success and rising attention brought Annika Chambers the coveted nomination for 2015 BMA (Blues Music Award) "Best New Artist 2015".
Her sophomore release, "Wild & Free", did not disappoint, with a debut at #7 on the Billboard Blues chart! Building on her success, Chambers used this opportunity to showcase her ever-improving abilities to sing across multiple musical genres. The word continues to spread on this rising star as festivals from South America, Europe and right in her own backyard (Minnesota Bayfront Blues Festival, Las Vegas Blues Bender, Gloucester Blues Festival, Mississippi Delta Blues Festival)race to feature Annika Chambers in their lineup.
A full-time music career can keep a person busy and yet Annika Chambers always finds time to give back to her community. Chambers has a deep passion for supporting and inspiring the next generation of musicians. When performing, she'll often shift the spotlight to local youth musicians and she also donates time speaking in classrooms about the legacy that is the blues.
Keep cruising the website to discover videos of Annika's performances and samples from her CDs!